Sons Of The Soil 1451
Welcome to the official website for Sons of the Soil; number 1451 on the role of the Grand Lodge of Scotland.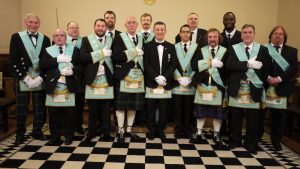 We warmly welcome all suitablly qualified brethern to attend our meetings held in the Freemasons Hall, Aberdeen on the first and third Wednesdays each month from October-April each year.
All Sons of the Soil visitors new to the Freemasons Hall Aberdeen, will be given full tours of the building either before or after our regular meetings as a token of our appreciation.
We are very fortunate to be able to work our own live candiates for these last few years and have many candiates that will either start their masonic journey with us or complete what they started last term.
This year 2016-2017 we have around 21 candiates waiting to go through the craft.
If you have never been to the finest freemason hall in Scotland we would be happy to give you a tour of the building after the evenings labours have been concluded.
For Non-Freemason visitors to this website the brethren of Sons of the Soil would be happy to explain what freemasonary is all about.
If you require more information on freemasonary in general or information on how to become a better man then please email our past master and current Aberdeen city provincial sec; Bryan Neave at bneavepm1451@btinternet.com
Or Sons of the Soil Almoner at almoner@sonsofthesoil.co.uk
On Wednesday the 5th of April 2017 we will working a 1st degree for another 3 gentleman which you are all warmly invited to attend and we always have a harmony of soup or stovies or good old mince and tatties afterwards, tile 7.30pm.
————
For other Masonic meetings held in the North East of Scotland please follow this link here